The Ultimate App for Foursquare Mayors! Rich Mayorship Analytics at your fingertips…
Use Uber Mayor to determine which foursquare venues are ripe for a new Mayor or will take a serious foursquare check-in fight for the Mayorship crown! Plot which locations you want to be Mayor of…
Features include:
Search nearby foursquare venues and get detailed foursquare analytics including the current Mayor and their Mayorship strength
Analyze your own Mayorships and see the venues in which your mayorship hold is strong or weak.
Sort search results alphabetically, by weakest Mayorships, or your highest check-ins. We find sorting by weakest Mayorships to be very useful!!!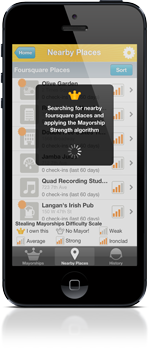 Look at your past foursquare check-in places and see the same rich Mayorship analytics.
Get detailed information of the Mayor of a venue including:

How much of a foursquare player they are and how often they check in
Other venues that they are Mayor of
Add them as a friend

Tight integration with our Uber Checkin app. Do you like the venue? Add it to our highly regarded auto checkin tool Uber Checkin so you never miss a check-in opportunity. Every daily check-in counts in the Mayorship race!
Check-in to foursquare directly from Uber Mayor – Customizing the shout message is available on upgrade
Uber Mayor is free!  All ads are removed upon upgrade.
Compatible with iOS 5.0 and above
Foursquare account required
No other registration required
Have a question? Contact us