Qs. How can I customize my foursquare shout message?
Click Settings and then click Foursquare Shout
Qs. How can I see all of my Uber Auto Checkins?
Click the Notifications icon at the top of the app to see a history of all successful and attempted Uber Auto Checkins
Qs. Will the Uber Checkin app help me become a Foursquare Mayor?
Absolutely! When an auto checkin happens the app will also automatically check to see if you are close to becoming Mayor of a saved location or if you have become the Mayor and will notify you to let you know!
Qs. I was not auto checked in to one of my saved places even though I was there
The Uber Checkin app relies on Android updating your location accurately. If you are not being checked in to places you visited then please check the following:
Make sure you have WiFi enabled. Even if you are not connected to a Wifi network, having WiFi enabled greatly improves your phone's location accuracy
GPS – by enabling GPS, your location will be more accurate
If you need help with any of these items, please contact us and we will gladly help as GPS and WIFI settings will be different depending on the phone / tablet
Qs. How can I save more than 3 places for auto checkins?
Click the Upgrade option on the home screen of the app to purchase an In App Upgrade that will remove the limit on the number of places you can save.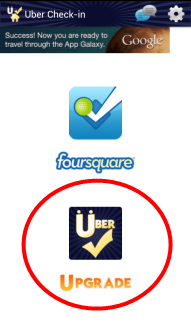 Qs. My Foursquare Uber Checkins are not showing up on my public Foursquare history
Check that you have set the Broadcast option CHECKED. If it is UNCHECKED then all auto checkins are marked as private and will be hidden from other Foursquare users. You can find this option on the Foursquare Broadcast Settings screen under Settings.
Qs. Can I change the Foursquare account that I registered with?
Yes! Just follow these steps
Go to Settings and scroll down the screen to the Foursquare section.
Click the Sign out of Foursquare account. This will reset all saved Foursquare data in the Uber Checkin app and cannot be undone.
The next time you click the Foursquare icon on the home screen you will be prompted to enter your new foursquare credentials and select your Uber Checkin locations. Note that you might have to sign out in your phone's browser as well.
Qs. I have a question that is not answered here – how can I contact you?
Send us an email at android@ubercheckin.com and we will get back to you as soon as possible! We aim to respond within 24 hours.