Never again forget to check in to your favourite venues. Uber Checkin allows you to save your preferred foursquare and Facebook places so that the next time you drop by you will be checked in automatically!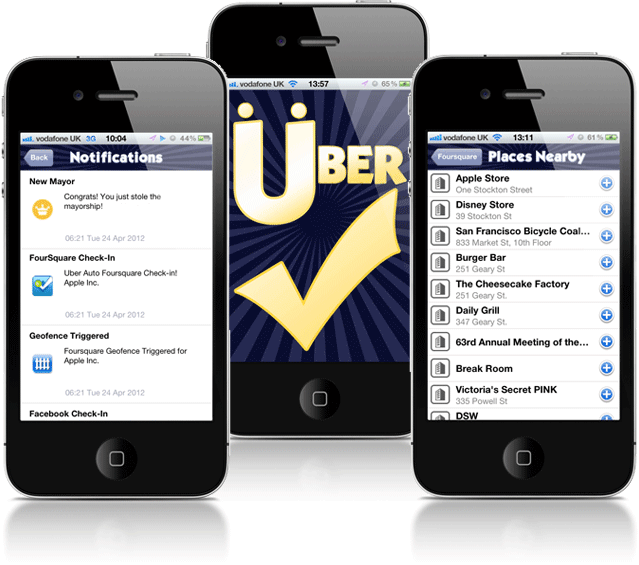 IMPORTANT: The iPhone 3GS is NOT SUPPORTED as this app requires location monitoring functionality which is only available on the iPhone 4 and iPhone 4S.
***** PLEASE NOTE: You must keep WiFi enabled at all times, even if not connected to a network. This is necessary for Uber Checkin to work. *******
Save up to 3 auto checkin locations for free; upgrade to remove this limit and save as many places as your iPhone can handle.
Features:
Uber Checkin uses the latest iOS functionality to save your battery life
Checkin to foursquare venues and continue to earn points, badges and mayorships without the hassle of having to take out your phone and check-in to the same places every day.
Checkin using Facebook and share your location on your wall
Get notified of every Uber Checkin (can be customized)
Get notified when an Uber Checkin makes you a Mayor!
Select venues to monitor based on your current location or from your checkin history
Avoid false positive checkins! Customize your auto check-in proximity distance to suit your own taste
All your Uber Checkins are saved and can be reviewed at any time
Get notified if an Uber Checkin fails, giving you the opportunity to check-in manually (e.g. if internet connection is spotty)
Customize your own time interval between check-ins to avoid repeated check-ins
Optionally share your foursquare Uber Checkins on Twitter and Facebook
This is the newest and most up to date auto check-in app using the latest iOS features, ensuring constant location monitoring without draining your battery!
Just set up once and let it run!
Compatible with iOS 5.1 and above
Foursquare or Facebook account required
No registration required!
Have a question? Contact us
*********************** NOW ALSO AVAILABLE FOR ANDROID! ***********************
If you would like to be notified drop us a mail and we will send you an update!