We are pleased to announce the release of Uber Checkin for iPhone, our location based auto checkin app for Foursquare and Facebook.
Uber Checkin is a best of breed, extensively customizable app that has been rigorously battle tested in condensed urban as well as spacious rural environments.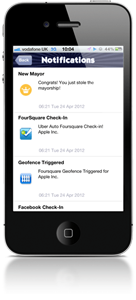 Some of the great things that the Uber Checkin app can do for you are:
Auto checkin to your favorite places on Foursquare or Facebook without having to take out your phone. Avoid checkin fatigue!
Customize your notification level: you can even be aware of geofence triggers to know that Uber Checkin is working! Or you can mute notifications completely.
Avoid false positive checkins! Customize your auto checkin proximity distance to suit your needs.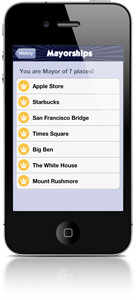 Some of our favorite features involve how we have integrated Foursquare mayorships into Uber Checkin
Uber Checkin will notify you when you have become mayor of a foursquare venue
Uber Checkin will notify you when you are close to becoming mayor and will tell you how many days remaining until you become mayor
Check your total mayorships in the Uber Checkin mayorships screen!
And of course we have worked painstakingly hard to have Uber Checkin conserve your battery life.
We are quite proud of Uber Checkin and and hope you find it as useful and enjoyable as we do!
IMPORTANT: The iPhone 3GS is NOT SUPPORTED as this app requires location monitoring functionality which is only available on the iPhone 4 and later
If you have any comments or feedback, we would appreciate you emailing us directly *first* before posting a negative review.
All the best,
Anya
Lead iOS developer
Visual Candy Apps team